Friday, May 7, 2021 at 7 PM EDT – 8:30 PM EDT Held at Branches of Wellness 70 S Park Place Painesville, OH 44077
**You can also choose to join us virtually from home on Zoom.
**Investment-$35/session
**No one turned away for lack of funds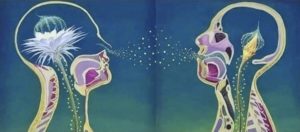 Join Kamalika Stockton and Lindsey Marie Whited for a New Moon intention setting, meditation, breath work and sound healing. This will be an hour-and-a-half long experience.
Utilizing the ancient primal healing practices of breath and sound you will be guided into a deep transformational journey into the body and subconscious where insights and messages can be accessed.
Breath and sound combined have the ability to regulate our nervous systems, facilitate deep emotional releases, and bring us into a state of balance and relaxation, allowing us to heal on a physical, emotional and spiritual level.
**Masks are required to attend. We will be socially distancing.**
**This event is limited to 12 people in person, pre-registration is required at:
http://www.branchesofwellness.com/events/